Topic: [CLIENT] Teeworlds Gamer
0.7 version here: https://www.teeworlds.com/forum/viewtopic.php?id=12622
Hello tee(e)s :)
This topic is getting completely outdated as it only shows changes from the very first version. It will get reworked when I'll have time and motivation for it.
I finally decided to release my client, the Teeworlds Gamer. Originally, this client was supposed to be a modded client for basketball - and you will find into some basketball-related features.
This part of the client probably won't interest you, but I included many other features ; and you can almost get a pure client back with the configs.
Many ideas aren't from me, some parts of code also, and I tried to make exhaustive credits.
First, the console has been redisigned (I already posted another topic about that) :
There's a little new starting screen.
I deleted useless debugs, and highlighted chats, system chats, client debugs in different colors to make the console more user-friendly.

I patched Teecomp from spl0k (official topic), and the Friend List from Choupom (official topic).
I added a little admin panel which you can see when you're authed on the server. There are some functions to force players to join X team, or to spec, you can kick them and also (as this function is available in most of the modded servs) mute/unmute them.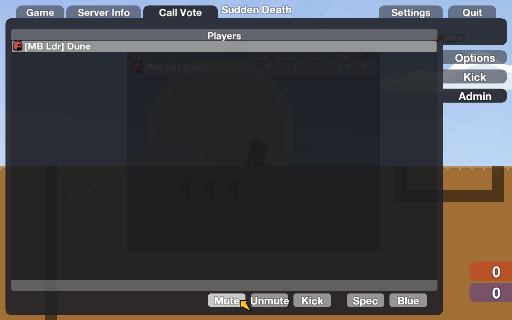 The HUD has been reworked to free some screen space, and to give a faster and accurate view of your health. Some other things have been resized, like the warmup, the chat, the broadcast or the timer. You can change those configs by looking in the Settings menu, Gamer tab.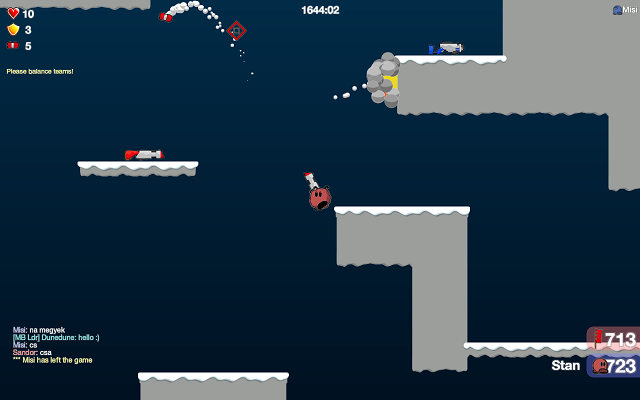 I also made some changes in the server browser, highlighting some gametypes : purple for all kinds of races, green for pure, blue for instagib, orange for basket, and white by default.
You also can set a maximum number of players in the filter.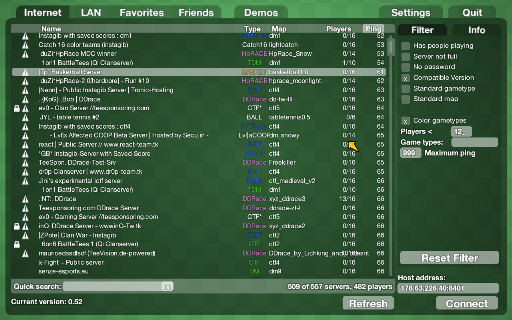 About RACE :
There is also some special features for races, mostly about changing the "Current time : " broadcasts and the Checkpoint to something clear you can see faster, with green colors when you're making a better time and red when you're not.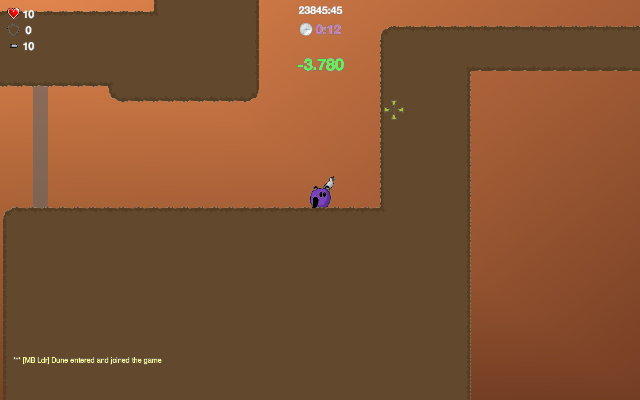 There is a new feature, the gfx_full_clear that only renders the game tile, which is sometimes very useful in races to find secret ways, to pass stupid quiz or simply to have a nice view of the game when the map is a bit dark or not clear on some parts. Personnaly, I always have this feature enabled.
An example with run_guy_25 :


The required entites_clear.png is in the zip.
Also, I added a one-click LAN server button. It looks for teeworlds_srv_race.exe when the gametype is RACE, and for teeworlds_srv.exe when the gametype is vanilla. It automatically set up a config and run the server with sv_register 0 and connect you on it. (you will have to refocus the client)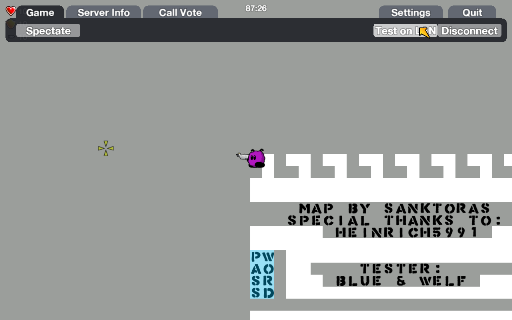 (Look at the button)
Unfortunately, this feature isn't compatible with other OS than Windows yet.
About BASKET :
Some features that will only interest some of you, skip if you're not interested in.
First of all, there is an option to make a basketball appearing in place of the rocket (look in the settings, one time more). The useless HUD has been deleted, and the basketball is resizable. You also can set a 5-seconds warmup that will enable at each respawn, to help you to get the timing.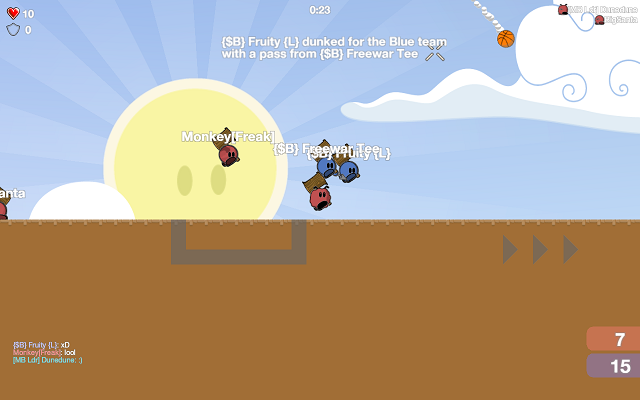 I added at the end of the game a little picture on the top left corner about owning time.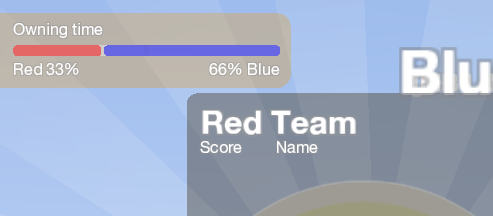 All that is configurable.
About SOUNDS :
I've imported many sounds from Unreal Tournament (free sounds), availables in the patch. You can disable them or test a random one in the settings. You also can download some other sounds from Quake (look in "customized sounds part).
The implemented sounds are :

Killing spree (5 kills)

Rampage (10 kills)

Dominating (15 kills)

Unstoppable (20 kills)

Godlike (25 kills)

Wicked sick (30 kills)

Holyshit (ended)

Humiliation (killed spree - 7 deaths)

Prepare to fight (warmup is starting)

Prepare to kill (match is starting after a warmup)

Firstblood (first kill in a match)
Also, I've implemented a fake interface. There is a quick button on the menus browser screen that allows you to change your name in one click to another one that you have defined as a fake. You can't make chat binds when you're considered as faking and you have a linked skin to the two "personalities".
You can set up all that in the settings, like always.
Credits :
There are some little credits in the client (settings->credits), and I copy-paste them here :
--- Patched separated projects ---
spl0k (Teecomp)
Choupom (Friend List)
KillaBilla (DownloadExtension and VoteExtension)
Sushi Tee (Beep mod)
EdgeCruSher (Teecomp++)
--- Graphics ---
Landil (arrows)
Apmox (da great logo)
Puch (race, arrows)
Bee (icons)
Sheep (entities_clear)
Blobby (console)
LordSkelethom (basket)
Marik (cross)
--- Sounds ---
Unreal Tournament
--- Programming Support ---
LordSkelethom
Vijfhoek
buffer[]
#teeworlds-dev
--- Thanks to ---
The teeworlds developers for the 0.5.2.
Sheep for making it compatible and compiling under Mac.
MBs, MS, and Qi for their ideas and feedback
Downloads (v4.31)
Windows binaries (.exe) courtesy of heinrich5991
Linux x86 pack (.zip)
Downloads (v4.3)
Windows pack (.rar)
Windows pack (.zip)
Mac binaries - Compiled by HMH
Downloads (v4.2)
Mac pack (.zip) - Compiled by MertenNor
(Extract and merge with your usual Teeworlds folder)
Sources
Sources (v4.31)
Sources (v4.3)
Customized sounds
Quake Sexy Sounds (from Pudding)
Only a limited number of persons tested that client, so I'm opened to all the reviews ; you're free to criticize as long as you don't insult. I won't tell you "if you don't like it go away" and I don't ask you to be tolerant because it's my first client or dunno what :)
25.11.14: Released v4.31, fixed the crashes with the gfx_full_clear feature.
07.09.11: Released v4.3, more info here
02.06.11: Released v4.2, more info here
03.05.11: Released v4.1, more info here
19.04.11: Released v4.0, ported the client to 0.6. More info here
18.03.11: Released v3.32, fixed some issues, and patched the Vote Extension from KillaBilla.
13.03.11: Released v3.31, fixed some issues.
13.01.11: Released v3.3, more info here
17.11.10: Released v3.2, more info here
02.08.10: Released v3.1, more info here
11.07.10: Released v3.0, more info here
21.06.10: Released v2.01, fixed bug and added missing credits.
20.06.10: Released v2.0, more info here
17.06.10: Released v1.0.
About the v4.32
What needs to be done
Port the gamer to 0.6.3
What I should have worked on for 4.4
Build a server creation tool into the UI
Chat icons for flag captures
Last 10 games played history
Only display healthbar for vanilla
Move up the chat box when fullscreen is being disabled to avoid overlapping
Fix overlapping problems with the broadcast when using big sizes
Add shortcuts for the LAN test feature in the editor
What I should work on when I'd have enough time
Rework this topic as it's getting outdated
Mirror feature
IRC-based chatroom
Use GeoIP
Automapper for the game tiles shower
Maybe patch the antiping
Downloaded maps icon in the server browser
Improve the fake feature to transform it into an intuitive profile switching tool, not a hardcoded button
Dunedunely,
Dunedune.
Not Luck, Just Magic.